Hi buddies, this is Stang with a quick post. I'm in a rush.
There's a new NONMEMBER item callled the Clover Rug! It's cool :)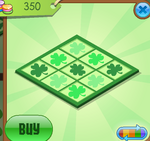 Credit to animaljam.wikia
There's another new item called the Spring Throne. It's really original, in my opinion, and very fantasy-like. It'll look good in a sky kingdom or underground den.
Credit to http://bunny02206.blogspot.com/
That's it for today, share to support, jam on and bye!
~Stang